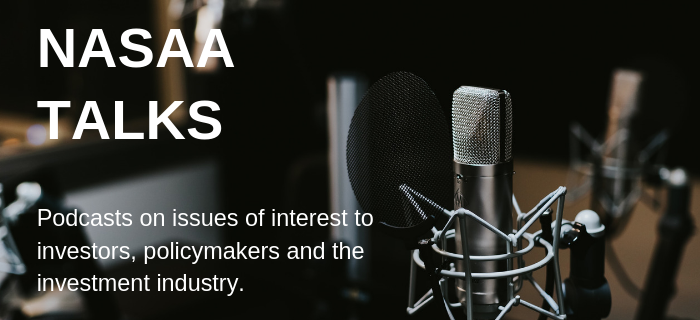 EPISODE 14 November 2021: Chair of NASAA's Regulation Best Interest Implementation Committee and Ohio Securities Commissioner Andrea Seidt discusses notable findings from NASAA's 2021 Reg BI Phase Two Report. The report announced the results of a nationwide survey conducted by state securities regulators that provided the first comprehensive look at broker-dealer industry policies and practices following the implementation of Regulation Best Interest (Reg BI) by the Securities and Exchange Commission.
EPISODE 13 November 2021:  NASAA Senior Issues and Diminished Capacity Committee Chair and Washington State Department of Financial Institutions' Licensing and Examination Supervisor Kristen Standifer describes what a trusted contact is and how it can help protect investors from fraud. She also describes NASAA's recent joint announcement with the SEC and FINRA on trusted contacts, and how this collaborative works to protect all investors and their investments.
EPISODE 12 October 2021: Current NASAA President and Maryland Securities Commissioner Melanie Senter Lubin discusses NASAA's year ahead.
EPISODE 11 September 2021: This episode highlights the NASAA Model Whistleblower Award and Protection Act. Our conversation features Washington Chief of Registration & Regulatory Affairs Faith Anderson and Montana Deputy Securities Commissioner Lynne Egan.
EPISODE 10 January 2021: This episode features a conversation with Michigan's Examination and Licensing Manager Linda Cena about the IAR CE Model rule.
EPISODE 9 October 2020: This episode features a conversation with Ohio Securities Commissioner Andrea Seidt about the Regulation Best Interest Examination Report.
EPISODE 8 September 2020: This episode features a conversation between the former NASAA President and Chief of Jersey Bureau of Securities Christopher Gerold and current President and Senior Deputy Commissioner of West Virginia Securities Commission Lisa Hopkins.
EPISODE 7 February 2020: A conversation on Women's History Month,  the unique financial challenges facing women and how NASAA members are responding.
EPISODE 6 December 2019: A conversation with Ohio Securities Commissioner Andrea Seidt on state-registered investment advisers and cybersecurity.
EPISODE 5 September 2019: A fireside chat with FINRA CEO and President Robert Cook on current regulatory issues.
EPISODE 4 September 2019: A conversation with SEC Commissioner Elad Roisman on a collaborative approach to senior investor protection.
EPISODE 3 June 2019: A conversation with Maine Securities Administrator Judith Shaw on NASAA senior investor protection initiatives.
EPISODE 2 February 2019: A conversation with NASAA President and Vermont Commissioner of Financial Regulation Michael Pieciak on NASAA legislative priorities. (Part 2)
EPISODE 1 February 2019: A conversation with NASAA President and Vermont Commissioner of Financial Regulation Michael Pieciak on NASAA legislative priorities. (Part 1)