REAL LIFE REGULATORS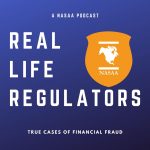 NASAA's Real Life Regulators podcast spotlights investment fraud cases from the files of state and provincial securities regulators and features interviews with the investigators and attorneys who bring these fraudsters to justice. Taking listeners through the investigative process provides an insider's view of how to identify an investment scam. Listen to Real Life Regulators.
THE ALERT INVESTOR

NASAA's The Alert Investor a series of podcasts provides investors with investor protection news and information. Continuing a tradition of providing information that every investor can use, NASAA is pleased to provide The Alert Investor, a series of succinct, two-to-three minute, investor education podcasts. Listen to The Alert Investor.