Caught in the Middle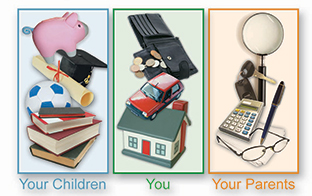 Do you find yourself struggling to plan for your retirement while also helping children pay for college education and providing financial assistance to your parents? If so, you are part of the "Sandwich Generation," the generation of adults responsible for their own needs as well as the care and support of both their dependent children and elderly family members.
Taking on responsibility for the financial security of three generations, the adults caught in the middle may feel squeezed into sacrificing a comfortable retirement for themselves in order to fulfill their obligations to their children and senior parents. NASAA's Sandwich Generation resources can help you better understand, balance and manage the financial needs of your children, you and your parents.
---
Sandwich Generation Resources
Common Investment Scams
Members of the Sandwich Generation may be vulnerable to shady tactics.
Red Flags
Members of the Sandwich Generation, their elderly family members and their children should watch for these red flags when considering an investment opportunity. 
For more information, tips and helpful checklists, download the full brochure, Sandwich Generation: Caught in the Middle.
 
Request a Speaker. Contact your state or provincial securities regulator to arrange a Sandwich Generation presentation for your group.