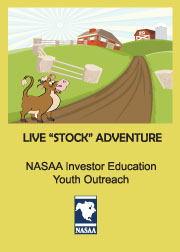 What is the Live "Stock" Adventure?
The Live "Stock" Adventure is a fun and educational activity for middle school students in grades six to eight. The goal of the Live "Stock" Adventure is not only to raise students' awareness of the value of saving and investing, but also to provide an innovative way to practice specific math skills such as calculating percentages and computing multi-digit numbers.
The Adventure is free to download and may be played using a standard deck of 52 playing cards.
---
Get started on the Adventure today!
To play:

Deck of Playing Cards*
Calculators, scratch paper and pencils
* A specialized deck of colorful Live "Stock" situation cards may be available from your state or provincial securities regulator. Click here to contact your regulator.
---
Your opinion counts.
After playing the Adventure in the classroom, please complete the teacher evaluation form. Your input is important and will help improve the Adventure for future teachers and students.