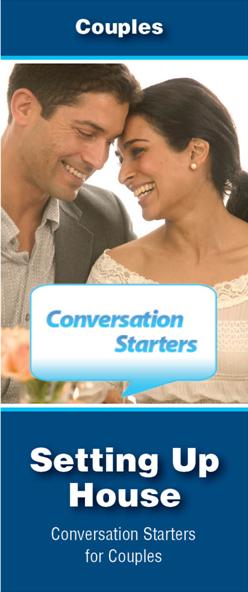 Conversation Starters for Couples
Getting Started
Communication is an essential part of a healthy financial and personal relationship. The conversation about money should be an open and honest dialogue with your spouse or significant other about your current financial situation and your investment goals.
Budgeting
How much of your income will go toward fixed expenses (i.e. rent, insurance) versus flexible expenses (i.e. entertainment, savings, investments)?
Have you determined your priorities for your flexible income and expenses?
Do you and your partner have similar habits or views on how you manage money?
Saving
What are your short and long term financial goals?
Are you prepared for unexpected financial hardships?
Are there ways you could spend less and save more?
Investing
How much risk are you willing to take with your money?
What investments are appropriate at this time in your life?
Where can you get help with your financial/investment decisions?
How can you select a financial professional (i.e. broker, investment advisor, financial planner) that's right for you?
Scams and Frauds
What are the red flags of investment scams and fraud?
If you suspect you have been approached about a scam, what should you do?
How can you stay aware of current investment scams and fraud?
How can you verify an investment opportunity and the promoter?