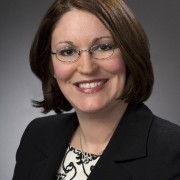 Seidt Says NASAA Agenda to Continue Focus on "Smarter Regulation" Balancing Investor Protection and Capital Formation
Download: Commissioner Seidt's Presidential Address
SALT LAKE CITY, UTAH (October 8, 2013) – Ohio Securities Commissioner Andrea Seidt today began a one-year term as president of the North American Securities Administrators Association (NASAA), the oldest international organization devoted to investor protection.
In a speech at NASAA's annual conference, Seidt said NASAA's agenda for state and provincial securities regulators will continue to focus on "smarter regulation" in the year ahead. "Importantly, it isn't more or less regulation that we seek. It is simply smarter regulation," she said. "Regulation that does not shy away from the reality that new technologies, even new modes of investing, are moving forward and will continue to evolve, but affirmatively seeks solutions in light of that reality to protect both businesses and investors from fraud, liability and loss."
In addition to promoting state and provincial regulation, Seidt said she also will focus the association's attention on modernizing state and provincial regulation. "Only by working closely with industry and our fellow regulators in embracing today's technology will we ever reach our full potential," she said.
In particular, Seidt highlighted NASAA's development of an electronic filing system for multi-state offerings, similar to Central Registration Depository (CRD) and the Investment Adviser Registration Depository (IARD) for broker-dealers and investment advisers.
"My vision is for there to be a one-stop, automated filing system for every type of corporate finance offering filed in multiple states. A system that has NASAA guidelines, forms, and core state requirements embedded in its design, a system in which all regulatory and industry users can track the filing status of an offering in all states in real time," Seidt said.
Seidt said NASAA already has taken the first major step in that direction by setting up the Electronic Filing Depository (EFD) for Form D notice filings, a system set to launch in the coming year. "I am on a mission to see the system expanded to include Reg A and SCOR filings soon thereafter," she said.
"One-stop electronic state registration, if done right, will be the smartest way for businesses to raise capital here in the United States," Seidt said. "If they are given a convenient, one-stop state option that is simpler but has greater integrity than the methods they have available at the federal level, I believe their choice will be clear."
Seidt also called for regulators, policymakers and industry to "work together to find solutions that balance investor and business interests in putting both Dodd-Frank and JOBS Act-related rulemakings to bed" and to support proper funding to provide the Securities and Exchange Commission with "the resources to do its job."
"In the wake of the recent financial crisis and the speed and complexity with which securities transactions take place in today's markets, the job of a securities regulator is no easy task," Seidt said. "While it may not be easy, state and provincial securities regulators through NASAA stand united in their commitment to their core missions of investor protection and capital formation."
Seidt also announced NASAA's new Board of Directors, including: President-elect William Beatty of Washington; Past President, Heath Abshure, Arkansas; Melanie Lubin, Maryland; Joseph Borg, Alabama; Douglas Brown, Manitoba; Michael Rothman, Minnesota; and Judith Shaw, Maine.
For the past year, Seidt has served as NASAA's vice president and chair of the Investment Adviser Section. Previously, she served as a member of the Board of Directors and played an integral role in the successful switch of 2,100 investment advisers from federal to state oversight as mandated by the Dodd-Frank Wall Street Reform and Consumer Protection Act. She has served as Ohio's Securities Commissioner since 2008. Prior to her appointment as Commissioner, Seidt served as Deputy Chief Counsel for the Office of the Ohio Attorney General, where she worked on investor and consumer protection litigation. She served as Lead Counsel for the Attorney General Office's subprime lending investigations and coordinated Ohio's efforts with other Attorney General offices across the country.
The complete text of President Seidt's inaugural address is available on the NASAA website, here.
For More Information:
Bob Webster | Director of Communications
202-737-0900
– NASAA –