The Voice of State & Provincial Securities Regulation
Welcome to the NASAA Insight, the quarterly newsletter of the North American Securities Administrators Association, Inc. The NASAA Insight is designed to keep readers informed of recent NASAA activities. 
  Download the Fall 2012 NASAA Insight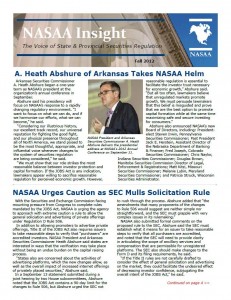 Inside This Issue
A. Heath Abshure of Arkansas Takes NASAA Helm
NASAA Urges Caution as SEC Mulls Solicitation Rule
Broker-Dealer Compliance
Native American Outreach
Top Investor Traps
Protecting Senior Investors
NASAA on JOBS Act Implementation
Abshure: NASAA to add Offense to Defense
Photo Gallery: NASAA Conference Focuses on Innovation, Investors
President's Message
Executive Director's Message
---
NASAA Insight Archive
Click here to download past editions of the quarterly NASAA Insight newsletter.