The Voice of State & Provincial Securities Regulation
Welcome to the NASAA Insight, the quarterly newsletter of the North American Securities Administrators Association, Inc. The NASAA Insight is designed to keep readers informed of recent NASAA activities. 
  Download the Spring/Summer 2012 NASAA Insight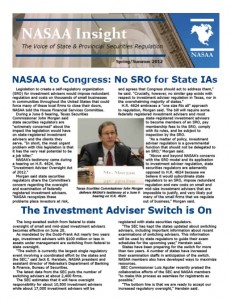 Inside This Issue
NASAA to Congress: No SRO for State IAs
The Investment Adviser Switch is On
Investors Urged to Approach Crowdfunding with Caution
New NASAA Task Force Focuses on Online & Crowdfunding Fraud
NASAA Member Named to SEC Investor Advisory Committee
State Task Force Finds Insurance Firm Acted as Unlicensed BD/IA
Waters on IA SRO:  "I Don't Believe Creating One or More New SROs is the Best Option."
SEC Commissioner Aguilar Praises the Collaborative work of NASAA Members and SEC to Protect Investors
JOBS Act Relaxes Investor Safeguards
NASAA Outlines Major Flaws in IA SRO Bill
NASAA Offers Recommendations to Increase Investor Use of BrokerCheck
President's Message
Executive Director's Message
---
NASAA Insight Archive
Click here to download past editions of the quarterly NASAA Insight newsletter.