The Voice of State & Provincial Securities Regulation
Welcome to the NASAA Insight, the quarterly newsletter of the North American Securities Administrators Association, Inc. The NASAA Insight is designed to keep readers informed of recent NASAA activities.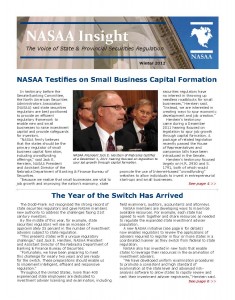 Download the Winter 2012 NASAA Insight
Inside This Issue
NASAA Testifies on Small Business Capital Formation
The Year of the Investment Adviser Switch Has Arrived: New Initiative Helps Streamline the Switch
NASAA Cautions Investors Not to Stumble When Interest Rates Fall Flat
Enforcement By the Numbers
NASAA Legislative Agenda for the 112th Congress
NASAA Urges SEC and FINRA to Close Regulatory Gaps in Private Placements
NASAA Membership Votes to Approve Exempt Reporting Adviser Model Rule
NASAA Amicus Supports Colorado Treatment of Joint Venture Interests as Securities
NASAA Spring Conference: Striking the Balance – Innovation, Investor Protection and Economic Growth
President's Message
Executive Director's Message
---
NASAA Insight Archive
Click here to download past editions of the quarterly NASAA Insight newsletter.